Otis Rush and Robert Johnson's Chicago blues style may have immortalised the genre's soul. But the best blues guitarists today have been adding their twists in recent years.
With contemporary artists like Joe Bonamassa, Eric Gales, and Gary Clark Jnr keeping the blues alive, the genre has been evolving and growing since the early 2000s. Many of these guitarists are multi-style players with talents in both blues and classical and rock genres. 
So, who are the 10 Best Blues Guitarists Today? And how have they been leaving their mark on the genre? Here is our list:
Kenny Wayne Shepherd
Eric Gales
Joe Bonamassa
Derek Trucks
Samantha Fish
Gary Clark Jnr
Kingfish Ingram
John Mayer
Mike Zito
 Jonny Lang
These contemporary guitarists take inspiration from jazz, soul, funk, country, rap, Latin, and even South Asian genres like qawwali. They create an eclectic combination of blues fusion, close to the blues soul which gives it a unique twist. 
And isn't innovation the spirit of blues?
When Sister Rosetta Tharpe started recording gospel music with her electric guitar in the 1940s, it transformed the sound of pop and blues. That is exactly what artists like Derek Trucks and Kingfish Ingram have accomplished.
With exceptional skill, these modern blues talents are revolutionising the field. They push the boundaries of the genre, ensuring blues music remains as popular as it has ever been. 
Our 10 Best Blues Guitarists today
Kenny Wayne Shepherd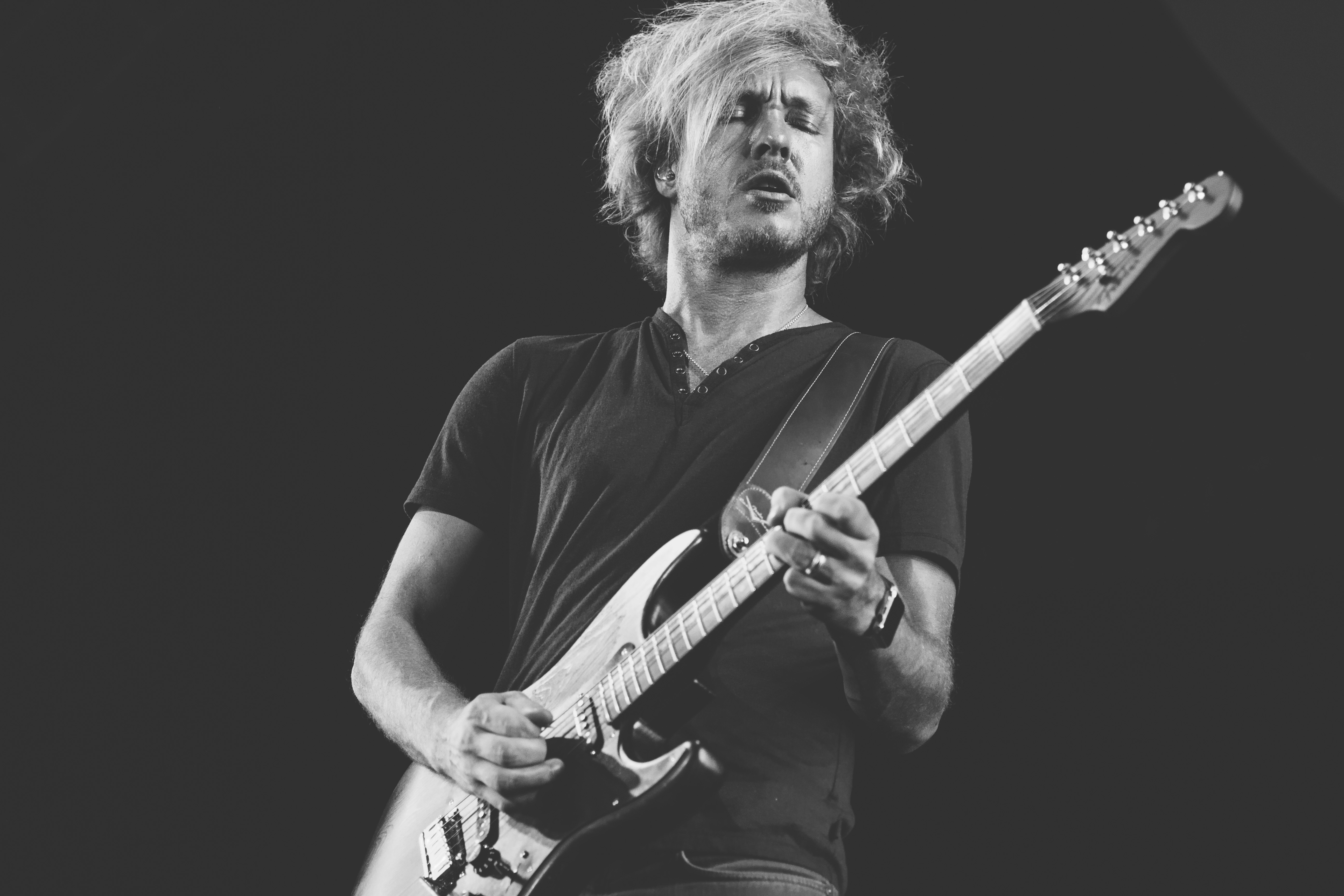 When it comes to the best Blues guitarists today, you must start the list with Kenny Wayne Shepherd. Self-taught and obsessed with the artistry of blues, he can reduce fans to tears with the feeling he injects into his music.
From the mellow tunes to the manic guitar solos, he has created a sound that is completely his, cementing his place in the blues hall of fame.
Among his best is his iconic work on the theme music from Batman Beyond: Return of the Joker.
Since the first time he stepped on stage at 13 with Bryan Lee, Shepherd took seven singles into the top 10. Shepherd is already a blues legend with 5 Grammy nominations, 2 Billboard music awards, and 2 Gibson Awards under his belt.
Eric Gales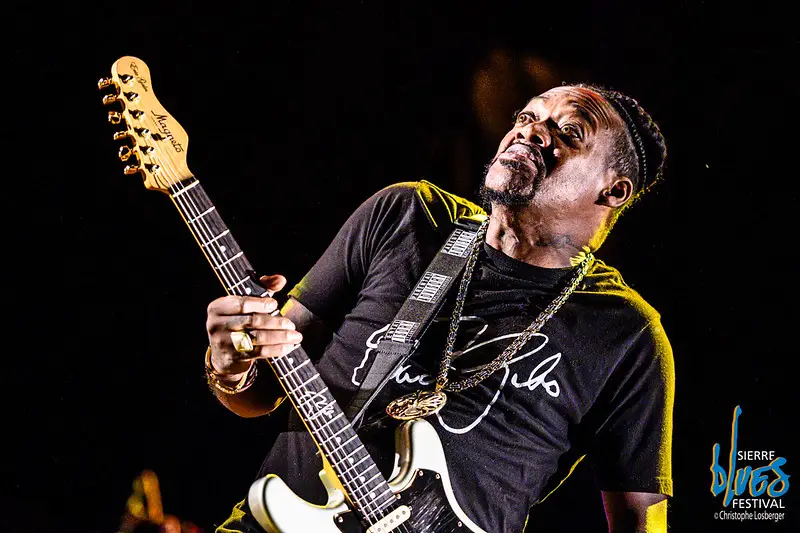 Eric Gales is known for his exploratory style and authentic blues rock sound. With songs like Death of Me and The Storm Gales, he combines haunting melodies with fierce guitar riffs and insightful vocals. The raw power in his music draws in fans from across the world.
What earns Gales a spot among the best Blues guitarists today is his supernatural ability to seamlessly integrate rock, jazz, soul, and funk elements into the soul of R&B music. His bold and emotional tracks tackle topics like racism and substance abuse. 
But through it all shines Gales' hope for a better future. 
Gales' music is instantly recognisable because he tunes his guitar to an E flat, a half step lower than the standard set. These looser strings give his music an emotional and bassy sound. With raw honesty and a killer rhythm section, Gales' resonates with millions of listeners and has cemented his place as a blues legend. 
Interestingly, Eric Gales plays the guitar upside down! A child prodigy, Gales started his career playing the guitar with his older brother Eugene who was left-handed. Being right-handed but receiving left-handed instruction, Eric Gales learned to play the guitar upside down with the E on the bottom.
Joe Bonamassa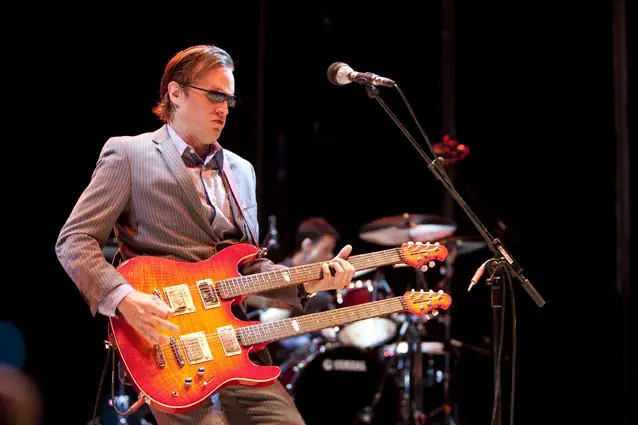 Joe Bonamassa is without a doubt the single most popular blues guitarist today. A protege of master guitarist Danny Gatton, Bonamassa is a blues-rock guitarist and songwriter with panache. From his intense tone to his crisp sound, Bonamassa creates the kind of smooth blues music that has fans swaying with every note.
A musical genius, Joe has played on some of the biggest stages in the world, from the Vienna Opera House to the Royal Albert Hall, sharing a stage with none other than Eric Clapton. Joe consistently hits number 1 rankings on the Billboard Blues, Billboard 200, and Indie charts. He is without a doubt one of the finest guitarists in the world.
His collaborations with Beth Hart include covers of iconic soul and blues songs like Bill Withers' For My Friend and Ray Charles' Sinner's Prayer. At the same time, their 2013 album Seesaw received a Grammy nomination. Joe Bonamassa is definitely top of the list when it comes to artists who've played a monumental role in the revival and innovation of the blues genre.
A devotee of the genre, he has also dedicated his life to building one of the biggest collections of vintage guitars and gear, with over 400 items. 
Tommy Bolin's 1960 Gibson Les Paul, a 1951 Fender Nocaster, and 3 original Flying Vs are just some of the valuables in this collection.
Derek Trucks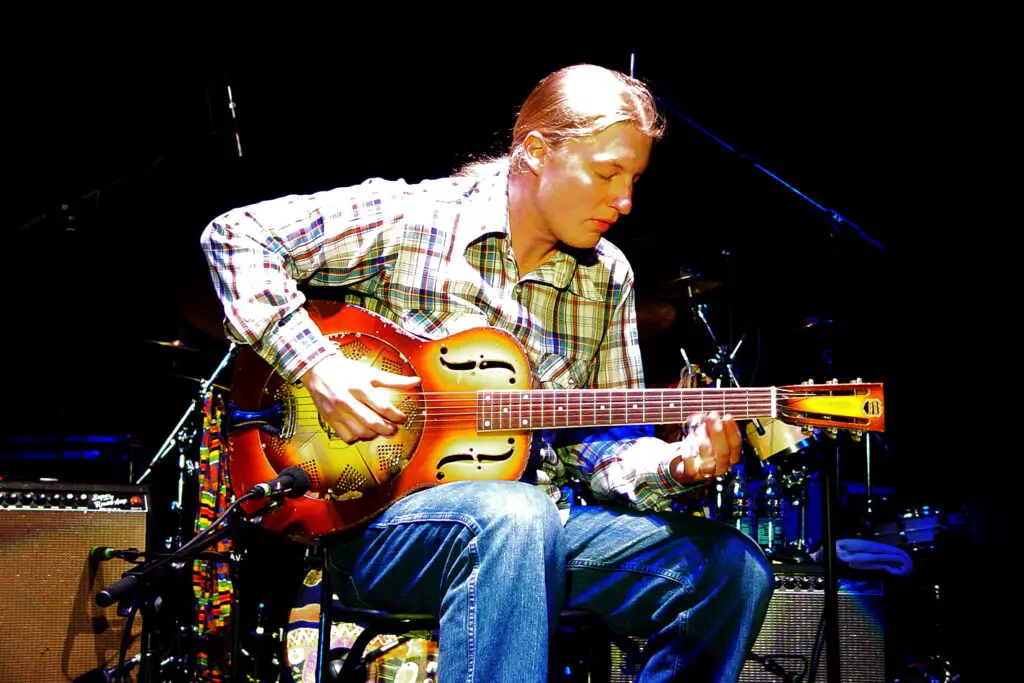 No other artist on this list has a sound as diverse as the slide guitarist Derek Trucks. With a strong base in Rock and Blues music, his sound takes inspiration from Jam Band, Jazz, Soul, and Latin.
He even dabbles in Qawwali music. Blues guitar playing with a South Asian twist – this eclectic blend of sound and tone puts Derek Trucks out front of most other contemporary artists.
Recognised as one of the faces of modern Blues, Trucks has been on the Rolling Stone Magazine list of 100 Greatest Artists several times. He is also a three-time Grammy winner in the categories of Best Contemporary Blues Album, Best Blues Album, and the Grammy Lifetime Achievement Award. 
From his innovation to his awards, it's fair to say Derek Trucks is one of the best Blues guitarists today.
If you're looking for the best Derek Trucks guitar solo, we'd say it's a tie between his rendition of Already Free as part of the Derek Trucks Band and his live performance of Keep On Growing with the Tedeschi Trucks Band.
Samantha Fish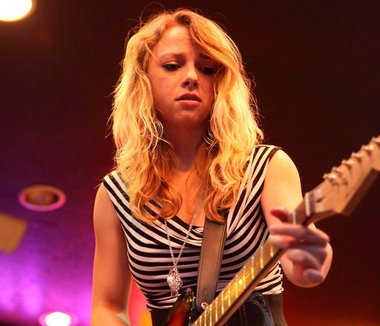 Missouri born with a style that mixes Blues, Rock, Country, Funk, and Bluegrass, Samantha Fish is one of the premier modern blues guitarists. Her career began as part of a blues group called Girls with Guitars, while she was also a part of the Samatha Fish Band. 
But it was her record Runaway, produced with the help of Mike Zito that marked her as a top-tier contemporary blues artist, winning her the 2012 Blues Music Award.
With seven award-winning solo albums, Samantha Fish has refined her sound to create a bold and unique sound. Her eclectic sonic compositions, with their textured grooves and dreamy vocals, have made her a top-ranked blues player. 
Having played on stage with Buddy Guy, Fish has cemented her place as one of the best Blues guitarists of all time.
Her album Kill or Be Kind is a masterclass in octave and pitch shifting, with a powerful sound that will make your heart race. Fish's ability to capitalise on Blues storytelling power adds to her outstanding guitar playing. 
Gary Clark Jr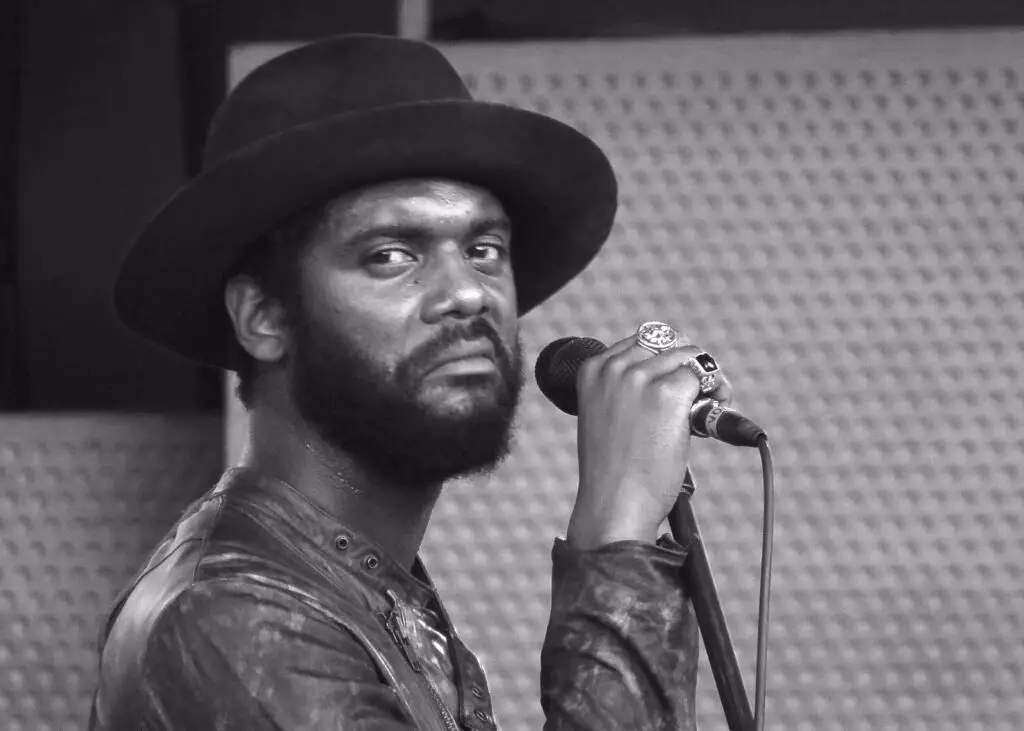 While many modern Blues guitarists take inspiration from Rock and Soul, Gary Clark Jr goes a step further by adding elements of Hip Hop to his sound. With albums like This Land and The Story of Sonny Boy Slim, Clark has won multiple Grammies for Best Traditional R&B, Best Rock Song, and Best Rock Performance. 
He has shared the stage with legends like Eric Clapton, Buddy Guy, B.B. King, and the Rolling Stones, and performed at venues like The White House. Regarding the best Blues guitarists today, Gary Clark Jr has earned his spot in the top 10. His grammy-winning song "This Land" is definitely one of his top hits!
With warm tones, an incredible tonal clarity, and a defining fuzz, his distinctive sound is raw and powerful. Fans of Jimi Hendrix and Stevie Ray Vaughan will appreciate how he balances audio and guitar, although his music style is more similar to The Black Keys. 
Kingfish Ingram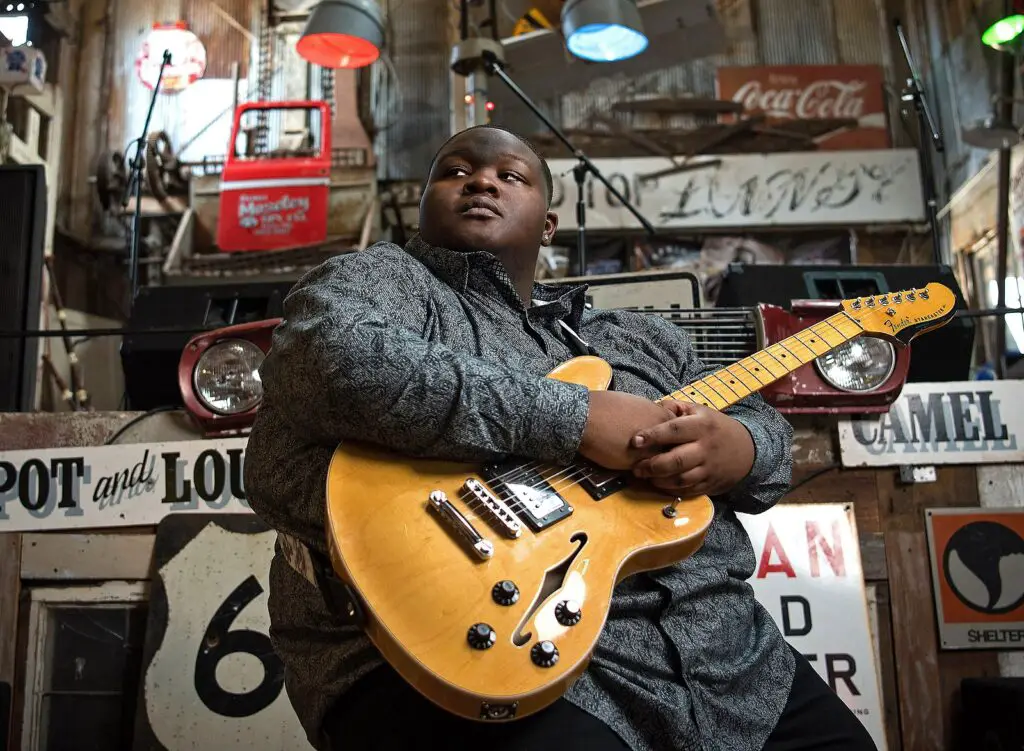 Christone Ingram is a prodigy who peaked in his career as a Blues guitarist at the young age of 23. He has performed with legends like Buddy Guy, and Keb Mo, along with some of the other amazing artists on this list like Eric Gales, Samantha Fish, and the Tedeschi Trucks Band.
Coming from a church background, it isn't surprising Ingram's music covers the Blues, Rock, Soul, and Gospel genres. Fulfilling early promises he started playing gigs in clubs when he was in 7th grade and by the age of 15 had already performed for Michelle Obama at the White House.
What makes Kingfish one of the best Blues guitarists today is his ear for rhythmic phrasing and a talent for mixing the major and minor pentatonic phrasing in a smooth and natural way. The result is a unique and captivating melody set to lyrics that tell a story. 
With his affordable gear, inspirational story, and genuine love of Blues it is no surprise that Kingfish Ingram is one of the best Blues guitarists today.
John Mayer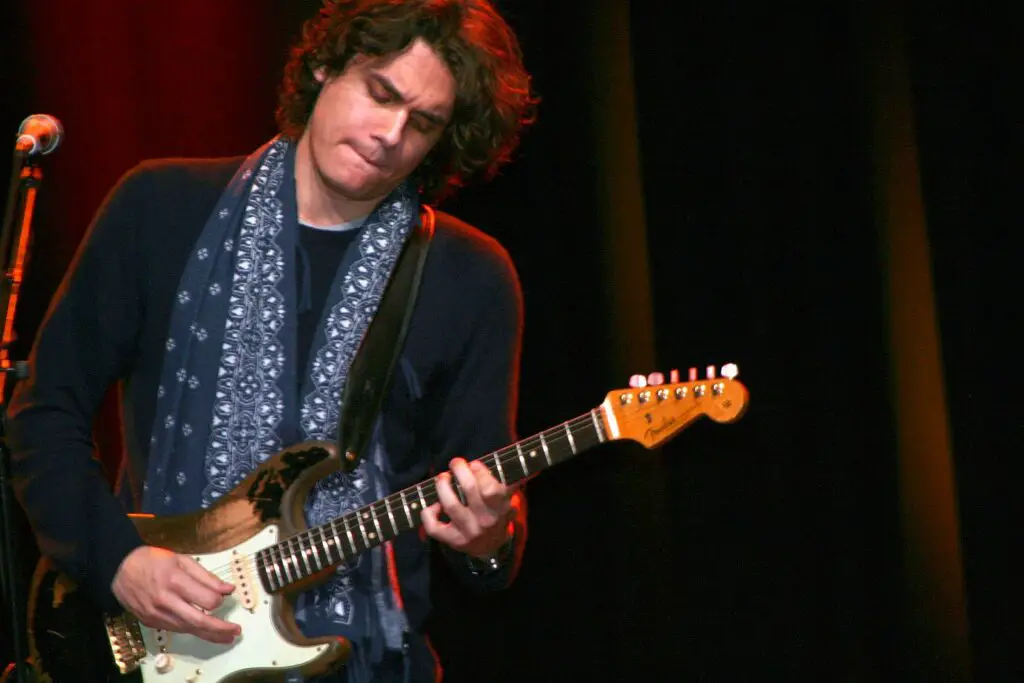 Image link- https://commons.wikimedia.org/wiki/File:John_Mayer_%28352582868%29.jpg
John Mayer may be well known for his musical success as a Pop artist, but he started his career as a Blues guitarist. In 2005 he formed a band called the John Mayer Trio and Pino Palladino and Steve Jordan created a distinct Rock-inspired-Blues sound. 
The group went on to perform with famous Blues artists like Eric Clapton and B.B King, and even opened for the Rolling Stones. Inspired by Stevie Ray Vaughan's music, Mayer has a similar high-energy Texas Blues style.
Don't believe us? Listen to some of his classics like Continuum, Gravity, or Slow Dancing In A Burning Room for some of his best guitar solos. Where the smooth bends and vibratos in Gravity take inspiration from B.B King's best work, Mayer's iconic chord playing style definitely takes a page out of Jimi Hendrix's book.
Mike Zito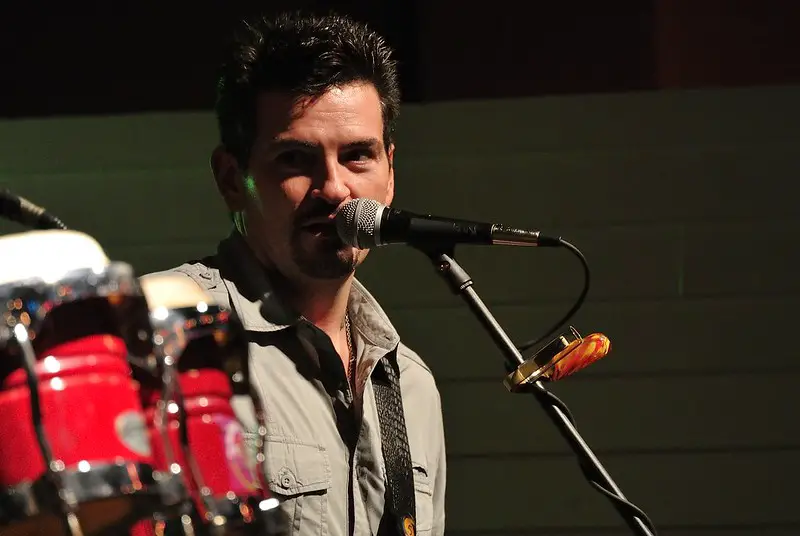 Mike Zito is one of the best modern Blues guitarists of all time. He's been active in the Blues music arena since the early 2000s and has since released 5 award-winning Rock Blues albums. 
His 2009 song Pearl River won him Song of the Year at the Blues Music Awards and cemented his place as a leading blues artist. But it was Roll-On from his 2011 album Greyhound that elevated him to fame after being featured on the popular show Sons of Anarchy.
Zito was a guitarist in the band Royal Southern Brotherhood until he left in 2014 to focus on his solo career. Since then, he has released multiple albums and consistently maintained his spot at the top of the Blues Album Charts. 
Quarantine Blues has gained immense popularity. It showcases his talent as an innovative genius who composed, recorded and mixed the album in under two weeks. At the same time he collaborated with multiple musicians during the covid 19 lockdown. 
Jonny Lang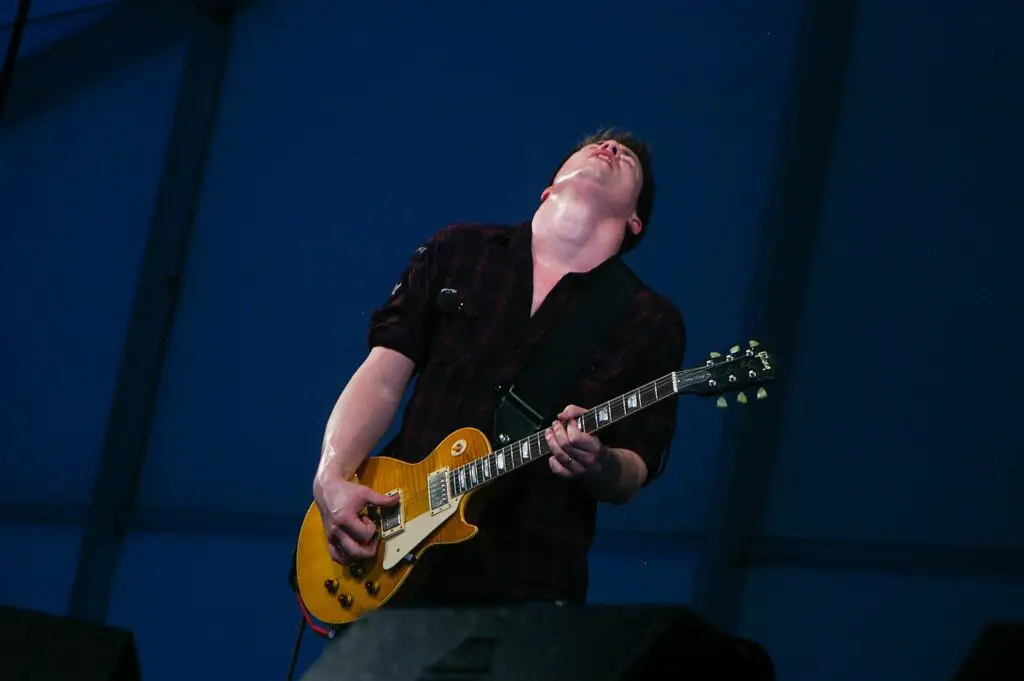 With his bone-chilling 2019 performance at the Holland International Blues Festival, Jonny Lang has guaranteed his spot on this list of best Blues guitarists today. With five albums in the top 50 of the Billboard 200 and a Grammy win under his belt, Lang has established himself as a leading Blues musician.
Having toured for over a decade, Lang has shared a stage with legends like the Rolling Stones, Buddy Guy, B.B King, and Sting. In 1999 he played at the White House for the Clintons and later at the inaugural ball for the Minnesota Governor.
His unique sound fuses together Blues, Soul, Funk, and Gospel, blending genres and putting his spin on Blues classics. 
Final Thoughts
Raw feeling and emotion are the heart of Blues music, which has inspired so much of the music from the 20th century onwards. These contemporary Blues guitarists embody the spirit of the genre. While each adds their twist to classical Blues, taking inspiration from genres like Jazz, Soul, Funk, Country, Rap, and Latin music, the result is a smooth fusion sound. Hopefully they will inspire the next generation and move them to keep the Blues alive. 
The storytelling aspect of Blues music is not lost on modern artists who use their art to discuss issues of racism, drug addiction, loss, and personal turmoil.
The all-round skill of the guitarists we chose for our list in this article is unquestionable.