You often hear how the Blues impacted contemporary R&B and Soul musicians, especially Blues guitarists. But what about the best Blues guitarists of all time. The pioneers who had such a huge impact on a culturally significant period and the development of modern music.
Remember how these great guitarists changed the music business and the lives of the people in the middle of the 20th century. And how much richer we are because of them.
There are others, but these are my 10 best blues guitarists of all time (in DOB order) who kept the Blues alive and have had a huge impact on modern music:
Son House
Robert Johnson
Muddy Waters
Sister Rosetta Tharpe
Albert King
B.B. King
Freddie King
Buddy Guy
Eric Clapton
Stevie Ray Vaughan
In this article you will find out about these great blues guitarists' lives, their accomplishments, and why they are on my list.
You may wonder why the man who was voted the best guitar player of all time by Rolling Stone Magazine in 2011 is missing from my list. The reason is, while Jimi Hendrix was undoubtedly a brilliant guitarist, he worked in a Rock environment.
Jimi Hendrix said Albert King was his idol. King said that he taught Hendrix "a lesson about the blues" when he opened for him at the Filmore in 1967. King said "I could have easily played his songs, but he couldn't play mine."

Bones Jones Music
There are others too.
The Best Blues Guitarists of All Time
Son House (1902 – 1988)
Eddie James 'Son' House, who was born in 1902, is mostly associated with the Delta Blues style, which uses the harmonica and slide guitar.
Before becoming a full-time musician, he was a preacher. His guitar playing brought a lot of the intensity and emotive expression associated with preachers. And it highly influenced how he played the guitar as in Death Letter. That is to say he was super passionate about his instrument, and it showed every time he took the stage.
Now listen to Jack White's amazing version of Death Letter to see how Son has influenced modern music. I am sure if he was alive today he would be stunned by his performance.
Son House is said to have had an early influence on his peers. His formative effect on two great blues guitar players, Muddy Waters and Robert Johnson was such that they are also on this list of the best Blues guitarists of all time. This, combined with his significant contributions to the Delta Blues genre, earns him a place on this list.
Robert Johnson (1911 – 1938)
We only have recorded output from Robert Johnson between 1936 and 1937, like Kind Hearted Woman Blues. Despite this, he has inspired countless Blues musicians and modern artists alike.
For example, his Crossroads has been covered by too many Blues musicians to mention. Just look at this collection of superstars.
This alone makes him worthy of a spot on this list of timeless masters of the blues guitar.
Most of Johnson's work focuses on Delta Blues, of which he became known as the King. But he was and is still known to have been a versatile musician.
We don't know a lot about his personal life or the circumstances under which he turned to music. This is because he achieved little commercial success during his own lifetime. Today, the lack of information makes him an intriguing personality which attracts attention.
This biography throws some light on what appears to have been a sad, lonely and short life
I have never found anything more deeply soulful than Robert Johnson.

Eric Clapton
Muddy Waters (1913 – 1983)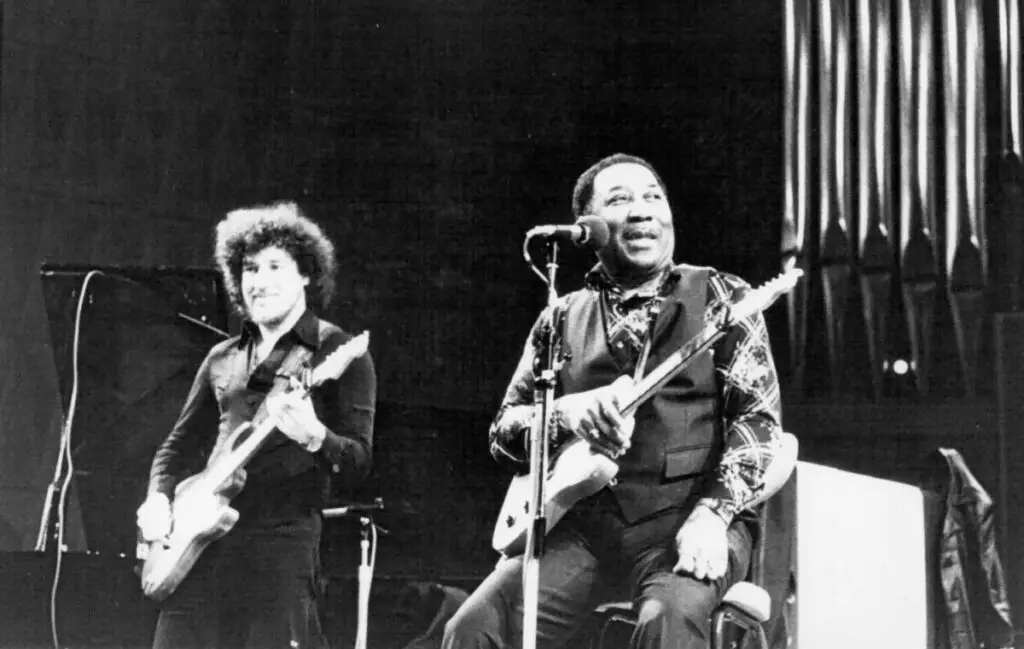 Muddy Waters is known as the father of modern Chicago blues. His song 'Rollin Stones' inspired the magazine and band's name. This alone should tell you about the scale of his influence.
He started playing the guitar when he was 17 and grew up recording albums with several labels, including Columbia Records. His work continues to inspire Blues and Rock musicians globally, years after he passed on.
By the end of his career, this blues musician had collected 6 Grammys and had an incredible impact on several American music genres.
In 1992 Paul Rodgers released a tribute album to the legend. It was called Muddy Water Blues. It would be hard to find a greater exponent of Blues singing than Rodgers.
Sister Rosetta Tharpe (1915 – 1973)
Rock and roll music was born in the 1940s with Sister Rosetta Tharpe. A talented and determined woman, from Arkansas, she was the first person to use heavy distortion on an electric guitar. It is a technique that is still used today.
What makes Tharpe special and deserving of way more recognition than she gets is that she carved out space for herself in an industry that didn't want her there. She was a woman of colour in a male-dominated circle, which means she succeeded despite the odds being against her.
Her type of Blues guitar playing is said to have influenced Chuck Berry and Elvis Presley. When she recorded Didn't it Rain live on a station platform in 1964, she was 50. She suffered from diabetes and died after a stroke 9 years later.
Rosetta Tharpe singlehandedly set the blueprint for the electric blues explosion in the 50s and 60s. She was inducted into the Rock and Roll Hall of Fame in 2018.
Albert King (1923-1992)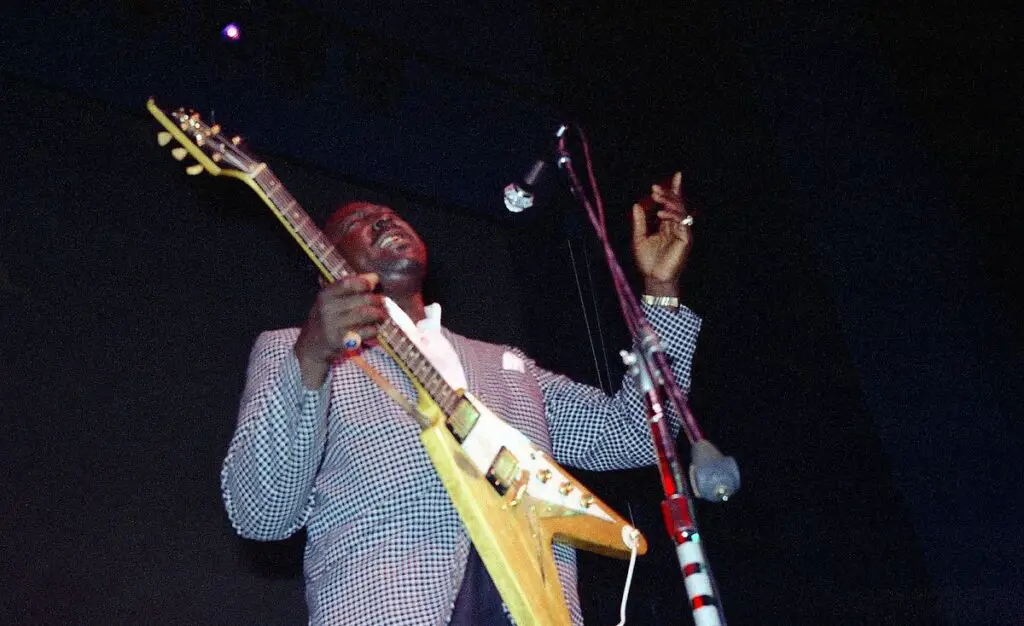 Nicknamed – The Velvet Bulldozer – for his smooth singing style and large frame, he was six feet four inches, Albert King made waves in the blues music scene.
King did several unusual but intriguing things during his career. For instance, he played a right-handed instrument upside-down even though he was left-handed. Sometimes he would manipulate his strings to face the ground and use his own string tunings.
He bent notes like no other
He bent notes in ways few other guitarists of his time could. Albert King was one of the best Blues guitarists of all time, and he was a huge inspiration to contemporaries like Eric Clapton and Jimi Hendrix.
And he was the first one to introduce the technique of dramatic sound and deep touch which has been imitated by many great guitarists since. He was inducted into the Blues Hall of Fame in 1983.
At his funeral, he was eulogised by B.B. King, who stated: "Albert wasn't my brother in blood, but he was my brother in blues".
Today, King is remembered as one of the 'Three Kings of the Blues Guitar', alongside B.B. King and Freddie King. It is a great justice for a man who worked so hard, and for so long on his art.
B.B. King (1925 – 2015)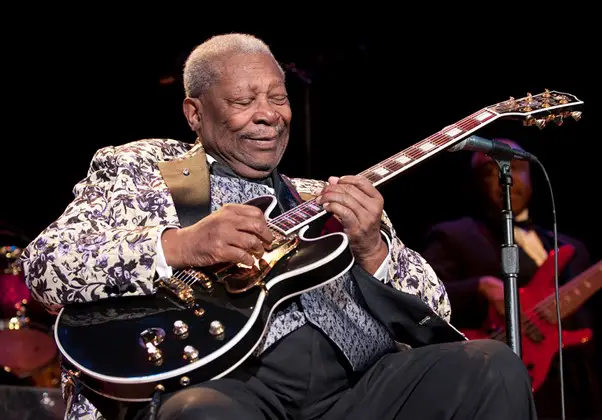 Many of the blues legends' on this list say they drew inspiration from BB King, who is often referred to as the King of the Blues.
Everything from the way he bent guitar strings to his signature vibrato defined what it meant to be a Blues guitarist. He started recording in the 1940s and ended up with over 50 albums to his name when he died in 2015.
He was primarily known for his great guitar playing, even though he had a wonderful voice. But above all he had a huge impact in keeping the Blues alive. And also, he was a mentor to many other great Blues musicians. These were the things that made him an automatic choice as one of the best Blues guitarists of all time.
You may like – King of the Blues – The Rise and Reign of B.B. King – by Daniel de Visé
Riley "Blues Boy" King (1925-2015) was born into deep poverty in Jim Crow Mississippi. Wrenched away from his sharecropper father, B.B. lost his mother at age ten, leaving him more or less alone. Music became his emancipation from exhausting toil in the fields. Inspired by a local minister's guitar and by the records of Blind Lemon Jefferson and T-Bone Walker, encouraged by his cousin, the established blues man Bukka White, B.B. taught his guitar to sing in the unique solo style that, along with his relentless work ethic and humanity, became his trademark. In turn, generations of artists claimed him as inspiration, from Jimi Hendrix and Eric Clapton to Carlos Santana and the Edge.

Daniel de Visé
Freddie King (1934 – 1976)
Freddie King is known for his work on songs like Hideaway, a Blues standard. Much of his early work can be heard in contemporary surf rock music, making him a highly influential Blues guitarist.
Furthermore, Freddie's work influenced successful guitarists like Mick Taylor. They took his melodic hooks and unique sharp tones and found ways to incorporate them into their own work.
King's scale of influence over Blues music in general and also on individual artists earns him a well-deserved spot among the best blues guitarists of all time. 
That's a wrap for the 3 Kings who have all left us for Blues Sky
Buddy Guy (1936 – )
Buddy Guy was named as one of the 100 most influential guitar players of all time by Rolling Stone magazine in 2015. This means that he wasn't just recognised as a great guitarist by the Blues music circle but also by the larger music industry.
Buddy has won 8 Grammy Awards and earned a spot in the Hall of Fame. He drew inspiration, as many have, from the works of Muddy Waters and is an inspiration to hundreds of aspiring blues musicians himself.
This guy absolutely tears apart that guitar. You could play a thousand notes a minute and still not even touch the kind of sheer beauty that comes out of a guitar in the hands of a proper blues guitarist.

Jaals – Youtube comment
Eric Clapton (1945 – )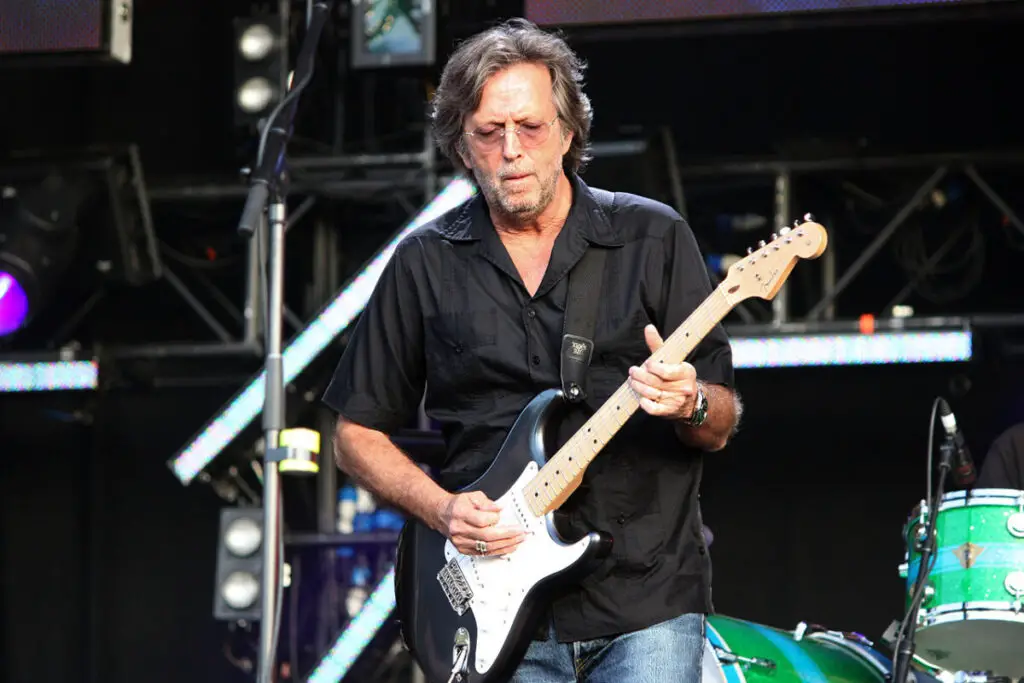 Eric Clapton sits in the Rock & Roll Hall of Fame for a very good reason. He was one of the first to integrate Blues into rock music. And he also introduced the idea that you could play Blues guitar aggressively.
When he played guitar, especially during the rise of the electric guitar era, he turned heads. He might not have been the best singer, although he was good, or the fastest guitar player. But his music connected with people, and it was when he joined John Mayall's Bluesbreakers that he came to the fore.
This led to the formation of supergroup power trio Cream with Ginger Baker on drums and Jack Bruce on bass and vocals. And the fusion of Rock and Blues took Cream and Clapton to international stardom.
Later as he pursued a solo career, he developed into a top-notch singer-songwriter.
Driven by his guitar roots, Eric has made a great contribution in keeping the Blues alive, and to the development of modern music in general. He earned the respect from his peers, making him an automatic choice for my list of best Blues guitarists alongside the others.
Stevie Ray Vaughan (1954 – 1990)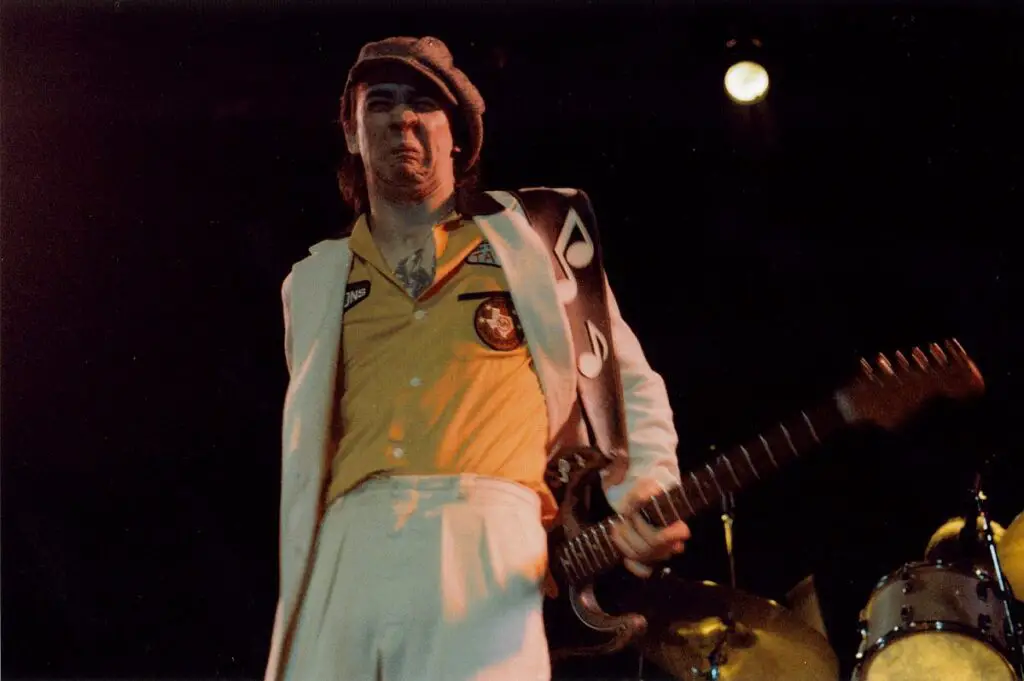 Vaughan is hands down one of the best blues guitarists of all time and a big favourite of mine. Not only did he have a beautiful tone, musicianship, and technique, but he influenced the very course of blues music over his painfully short career. Too young to impact the 1960s music explosion, it must have had a significant effect on his music as he inspired young Blues guitarists in the 1980s.
This man could make guitar playing seem like a piece of cake. One instrument in his hands sounded like 3 – the lead, rhythm, and bass. What's more, he was a gifted singer and an excellent showman. Students of Blues guitar might want to read this.
All in all, there was little Vaughan couldn't do with a guitar. Inspired by blues musicians like BB King, Muddy Waters, and Jimi Hendrix, Stevie learned from the best blues guitarists of all time, which explains his greatness.
Watch this spectacular performance in concert at Montreux in 1985.
His influence has wandered into contemporary Blues, with guitarists like Gary Clark Jr. drawing inspiration from him.
He packed a lot into his 36 years, before his untimely death in a helicopter crash. Sadly, we may have missed a lot more. But we are lucky we can still listen to his music any day.
Final Thoughts
There are many talented blues guitarists, but the ones on this list have profoundly impacted the Blues genre and its guitarists. They are the best blues guitarists of all time who have kept the Blues alive and have had a huge impact on modern music.
Furthermore, the circumstances under which they achieved their success make for inspiring stories.
Sister Rosetta Tharpe and Robert Johnson deserve to be remembered, not only for their accomplishments but also for the lives they led.
Conversely, Albert King will be remembered for the impact his guitar playing has had on contemporary guitarists. As a result it is likely his influence will continue, as new generations of guitar players embrace Blues as the roots of modern music.
Related Posts