Before I show you how to create a tropical garden, let me say that this is not a tropical garden tutorial. But it does cover the basics from planning a tropical garden, garden irrigation system DIY, cheap DIY landscaping ideas, to laying Malaysia grass turf and caring for the garden so it gets established.
If there are any aspects you would like more detail on please contact me and I will do my best to explain.
First choose the site. Take time out and think, what are you trying to create? Once you sure, keep as many trees and shrubs as you can, cut them back hard and clear the ground of what you don't need. The area will now look bigger than you imagined and you are ready to start creating your masterpiece.
Preparing the ground to create a tropical garden
I started with a triangular piece of land, about 350 square metres. There were six overgrown, barren lamyai trees and nine clumps of untidy bamboo. It was wild, with loads of hidden rubbish, much of which was not organic and had to be dug up and disposed of.
In the process we uncovered a number of scorpion nests. A scorpion moved home and took residence in one of my shoes. Luckily I saw it just before I put my foot into the trap.
The lamyai trees blocked out most of the light so there was no grass or vegetation. But around the edges, there was overgrown lemongrass and scattered unkempt bushes of herbs, like kapow. At one end, an old wooden structure with a cement tile roof was once a tiny house. It had been a garden shed for many years when I began. The main structure was solid, consisting of six square wooden posts. With a bit of imagination and some elbow grease, I knew I could turn it into a comfy sala.
Planning a tropical garden
My idea to create a tropical garden was clear in my mind. We cut the trees and bamboo back severely. Then we cleared the ground so I would have an open view of the site. We removed two of the lamyai trees to make more space. That job, using two men plus me (half a man) took four days. Labour is cheap in Thai villages, especially mine, and it cost about 3000 baht ($100). I kept some of the wood cut from the trees for landscaping and gave the rest to anyone who would come and collect it.
So there were no transport costs. But we did have a couple of big bonfires, which made me feel guilty. Bad environmentally, but at least it was all organic stuff. The garden looked twice the size but was in need of frresh topsoil. One truckload did the job and with a bit of help, I spread it in two days.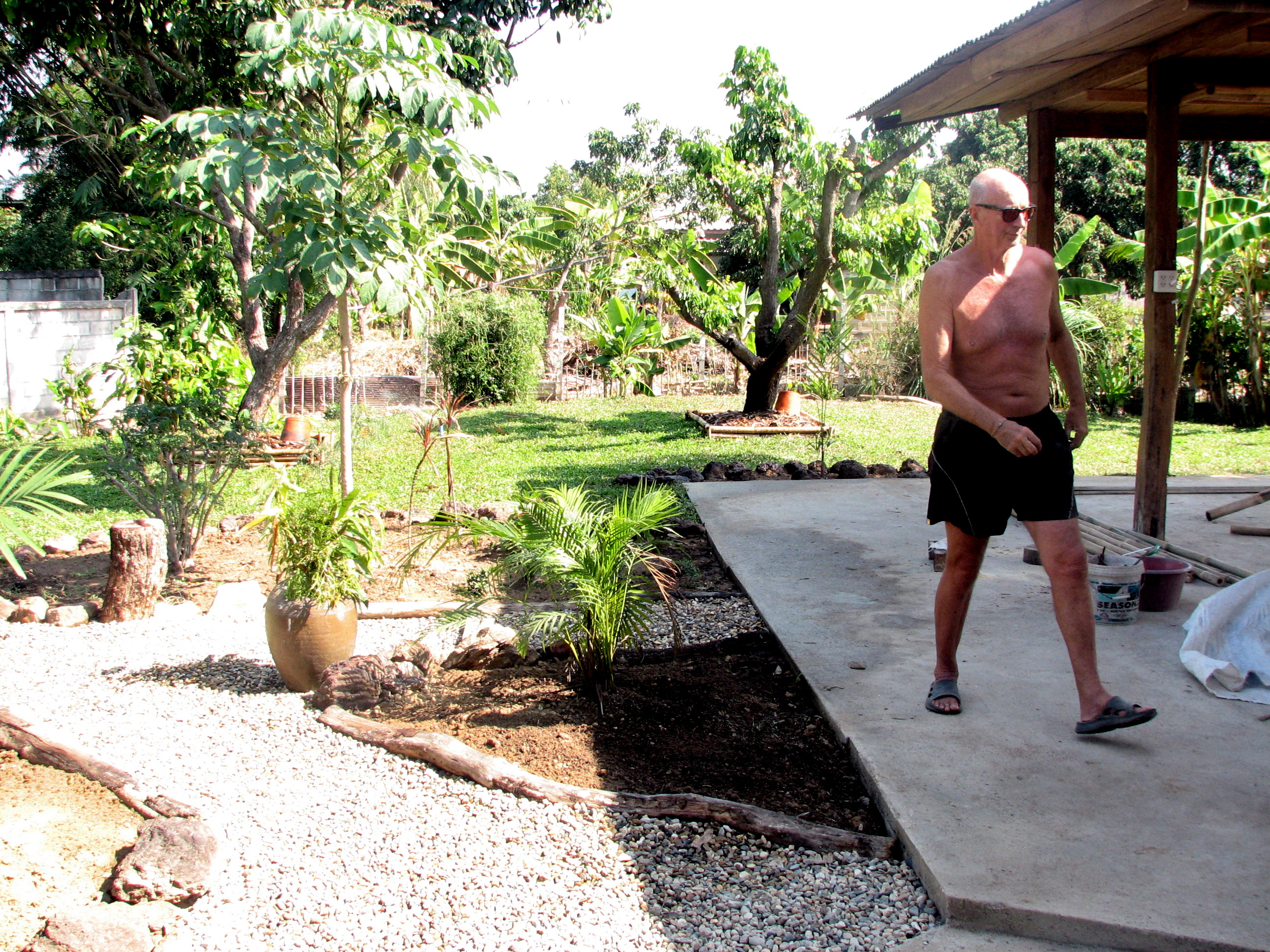 Garden irrigation system DIY
The dry season is long in Chiang Mai, approximately five to six months from December to June. Some farmers said I was mad, as it was the worst time to be planting out a new garden. But I figured, if I installed an irrigation system it would work even though the growth would be slow.
Irrigation systems do not have to be expensive, just functional, and turning a tap on is not too demanding. So I bought thirty metres of three-centimetre black flexible piping. With five sprinklers, some blue PVC stop taps and connectors, I built a simple five station manual system.
I worked out where the sprinklers had to go to cover the area and we laid the pipe 20 centimetres deep from one end of the garden to the other. Once we had sorted out a couple of leaks it was fine and the system worked perfectly for years. There were a few breaks which the cost of a beer or two soon fixed.
Cheap DIY Landscaping ideas
To create a tropical garden, or any garden, I always use as much indigenous material as I can find. I wanted a lot of local rocks to combine with old rough tree branches and river stones. A neighbour who had rocky land in the hills nearby said we could take all the rocks we wanted.
We made about ten trips in the old pick-up to collect them. Many trips and many rocks later I had between 200 and 300 rocks for free although the chiropractor's fees knocked a hole in the free bit. When I had planned out where I wanted the beds, laying them out was not difficult, just hard graft. My creation was starting to take shape, although there was still a long way to go.
The Malaysia grass would be the most expensive item and would be one of the last things to tackle.
Building the Sala
Next on the agenda was to clear out and dismantle the old shed. Knocking the nailed wood panels off the walls was fairly easy but recycling them to make ceiling panels took nearly a week. I ripped out the many years of 'Heath Robinson' wiring that now looked like a bowl of cooked spaghetti. Amazingly, it had failed to electrocute anyone. We then laid ten square metres of concrete to make the floor area up to sixty square metres.
The next job was to cut and cure a load of bamboo from the forest, to complete the sala. This was the biggest and most time-consuming of all the work. I could have saved a lot of time but not much money, and it did add to the natural finish.
Chiang Mai is home to so much bamboo. It isn't difficult to get the raw material cheap or even free if you are prepared to go to the jungle and cut it yourself. A few trips and days cutting and trimming, and I had all the bamboo I needed for next to nothing. Thankfully I had an expert and willing helper.
Curing bamboo with boric acid takes a couple of weeks. But it's necessary, to prevent the flies from eating the wood and leaving you with a pile of dust.
If you are thinking of building a patio/sala extension to your house you should see how I did it by reading this post.
Bamboo accessories
I wanted to build some bamboo fencing to keep the dogs out and to make a bamboo daybed. Working with bamboo was a new and fascinating experience. It is such a strong, flexible and beautiful natural product. Rural communities use it in its raw state in their homes and farms. It is so easy and quick to grow (the fastest growing plant in the world, I believe) they don't worry too much about preserving it. So I had all the raw materials, except grass and plants, and it was a question of melding them together.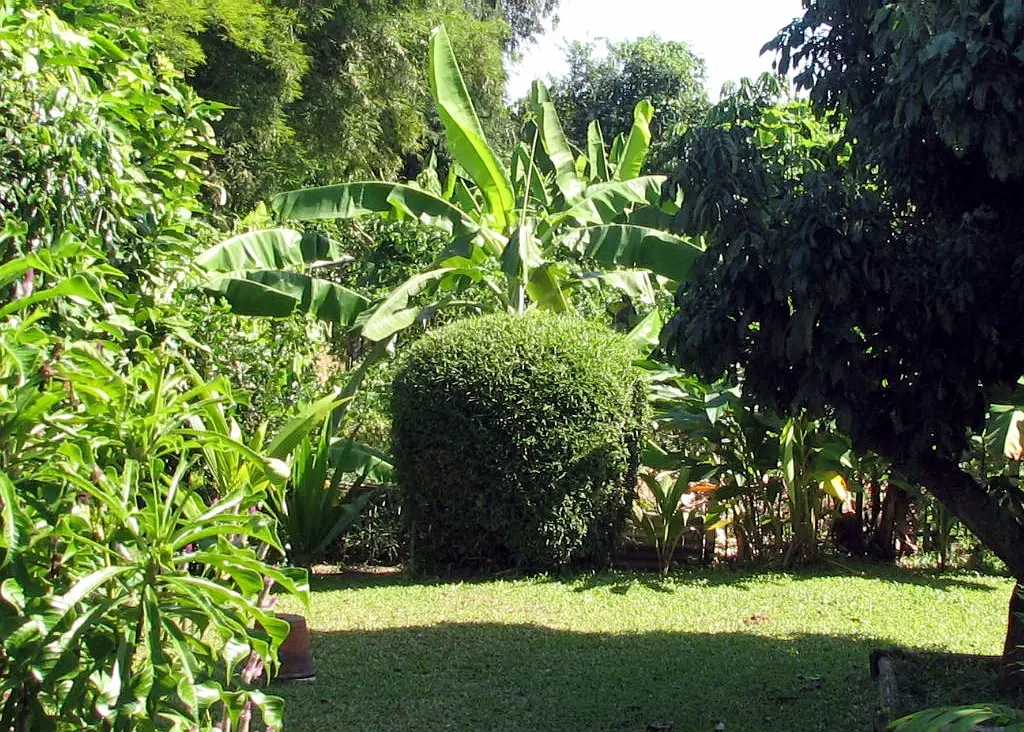 Laying Malaysia grass turf on Christmas Day
By the twentieth of December, we had built the sala, installed the irrigation, built the beds, transplanted some shrubs plus a few new palms, shaped the old bamboo clumps into bushes and prepared the ground for the grass. The Malaysia grass turfs costing six thousand baht ($200) arrived on Christmas Eve and on Christmas day we laid them all. I watered the grass continually for a week and it took so well I was able to do a first cut after eight days.
Flowers from the garden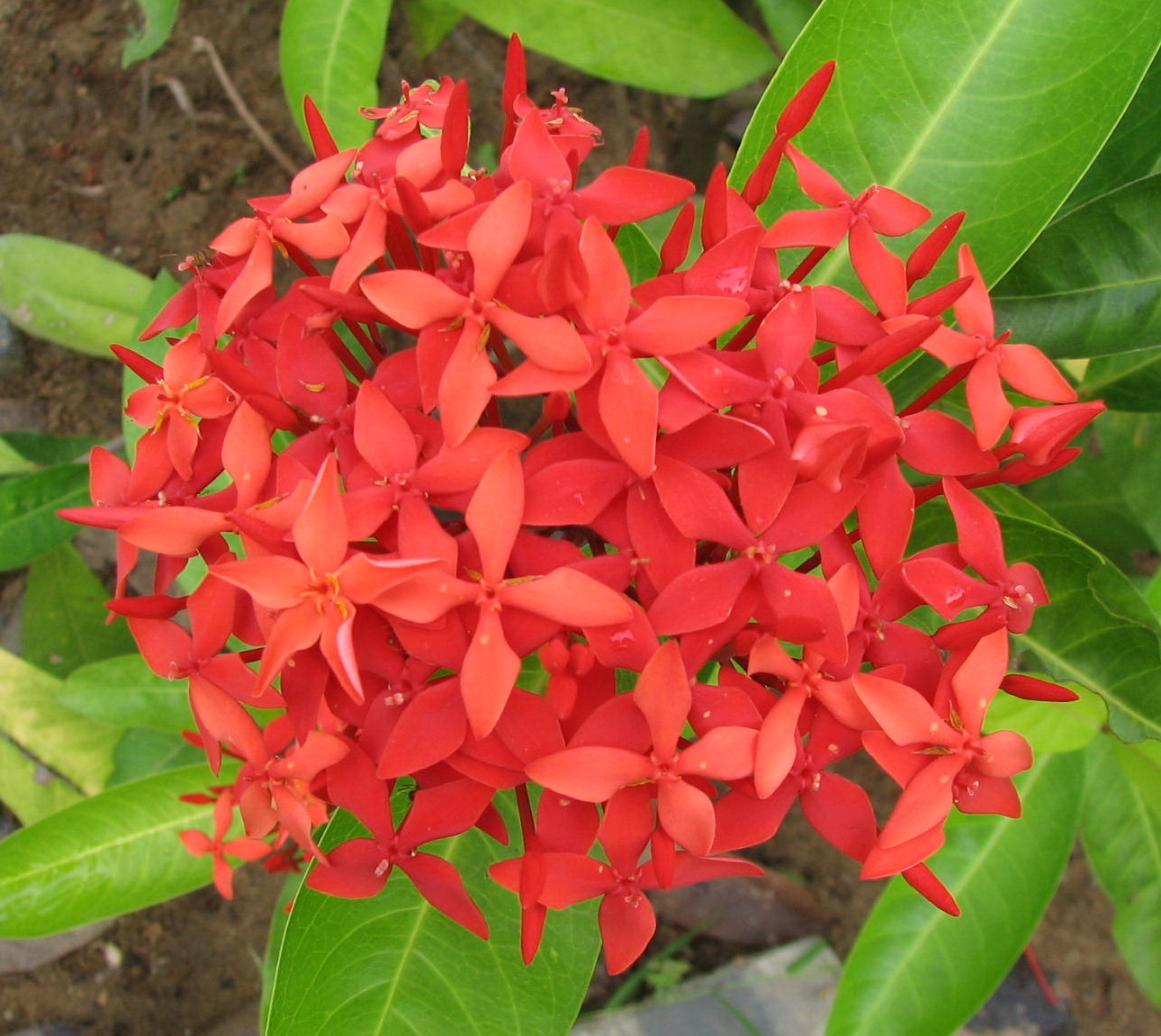 Final Thoughts
It was a great success, and although it was a bad time of year to build a tropical garden, when no rain was expected for months, I got away with it. The farmers who said I was mad now thought I had supernatural powers.
We then had a huge 'garden warming' party where all the guests brought plants and shrubs for our budding tropical garden. In a period of six months, the area was transformed. It went from a dingy, overgrown, mosquito-ridden dump to a tranquil and relaxing tropical garden haven. $400 and some hard graft were well worth it.
Building a house in Thailand
If you are thinking of building a house, maybe because your thai spouse has some land in a village, then you should read my post on house building in Thaialnd.