Discovering new book series is one of the most exciting parts of being an avid reader. However, finding them is not easy, and many good new authors to read go unnoticed in an age when there is a proliferation of books. And finding a gem or two in a world where genre dominates is even more challenging. So, if you are looking for new psychological thriller series you've stumbled across the right blog and landed in a good place.
There are already an estimated130 million books in the world so you can see why some help would be welcome. Goodreads is an excellent place to start. And if you read my article – How to find the right book by new authors – I'll walk you through Listopia and tell you about some quality sites to add to Goodreads.     
But before you go there, here is one new psychological thriller series you do not have to miss.
Alfie Goes to Thailand is a great new psychological thriller series. And the first book in this heart-pounding literary fiction series by James King is free. So, you can get an insight before committing, while the suspense mounts throughout the 6-book series to a gripping climax.
Reviews of the Alfie Goes to Thailand series   
I am delighted that my first series is attracting discerning readers, and reviewers have been generous in their praise on Amazon and Goodreads. These three short examples are typical.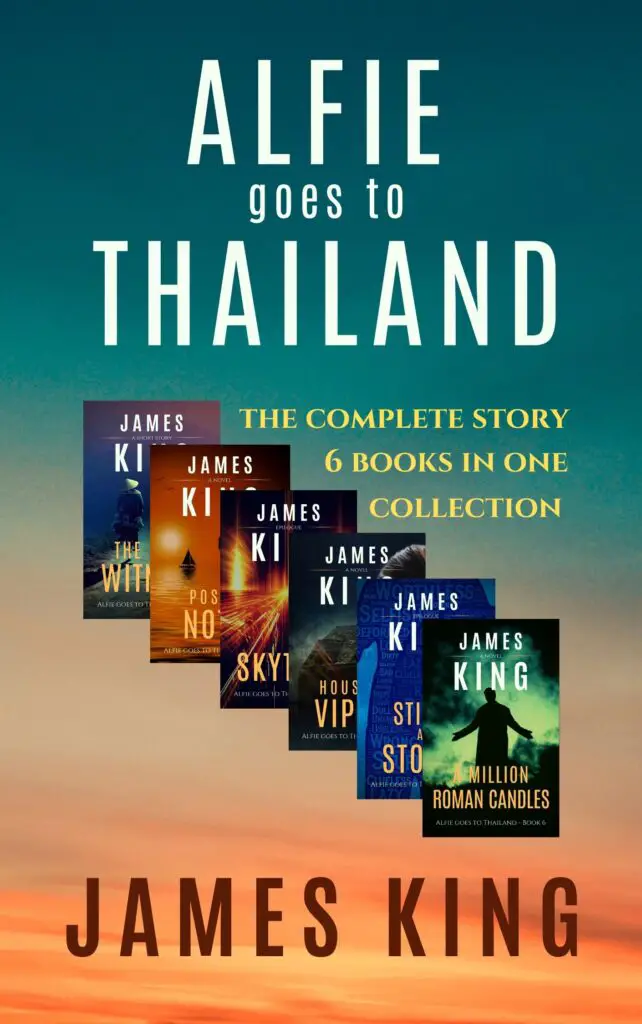 Heart pounding! Very fast paced! Made my heart race for sure!! Can't wait to read more by this author!!
***
I love this series. Book 4 didn't disappoint. The storyline flows well with a great plot that is well written. The characters are well written as well and well developed. James King is a wonderful author and one of my favourites. I would recommend reading this series.
***
Excellent follow up to House of Vipers. If you haven't read any of the Alfie books, I recommend you start from Book one (The Only Witness). Can't wait for A Million Roman Candles.
Category/Genres for each book
The series is Literary Fiction, but I have summarised each book below and here is my assessment of where each book would fit in a sub-category/genre.
THE ONLY WITNESS – Short story – Crime/Mystery

POST IT NOTES – Novel – Light psychological thriller with a touch of romance/leading to a darker place

SKYTUBE – Short story – Financial thriller

HOUSE OF VIPERS – Novel – Psychological dark thriller/ suspense dark romance

STICKS AND STONES – Short story – Psychological/ domestic abuse

A MILLION ROMAN CANDLES – Novel – Psychological/ suspense/ romantic thriller/ spiritual journey
Book 1 – The Only Witness
The short story is perma-free, so you can read The Only Witness and get a feel for the series to see if it is for you. Check it out at Amazon.
A quiet Sunday, a vicious assault. One man's resurrection is another's good luck.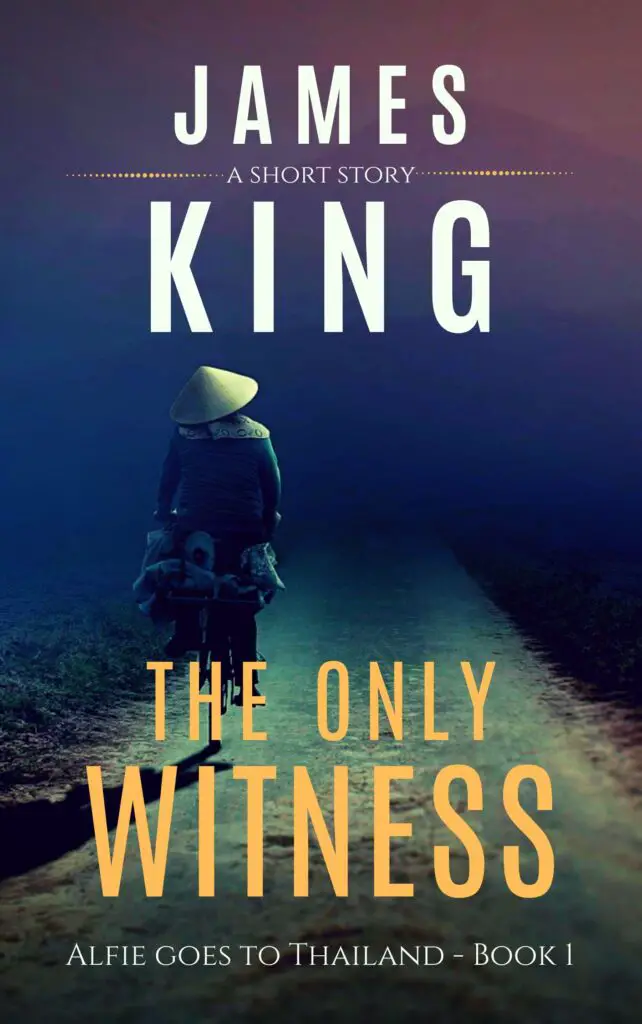 When Alfie sets out on his morning cycle ride, the last thing he expects is to be the only witness to attempted murder. The perpetrator of the crime is the only person who knows Alfie has seen him at the scene. And Alfie is easy to find. Scared out of his wits, he keeps his head down and waits, as a weird sequence of events unfolds.
Returning to the village on the way back from his regular morning cycle ride, Alfie Mynn had a strange feeling, as he turned off the canal road and pedalled leisurely through the village. When his stomach started churning for no apparent reason, it was usually a sign of something untoward brewing.
Suspenseful and gripping, the short story will give you a taste for the ALFIE GOES TO THAILAND series.
Book 2 – Post it Notes
The financial crash of 2008, plus a new woman, make for a potent Molotov cocktail.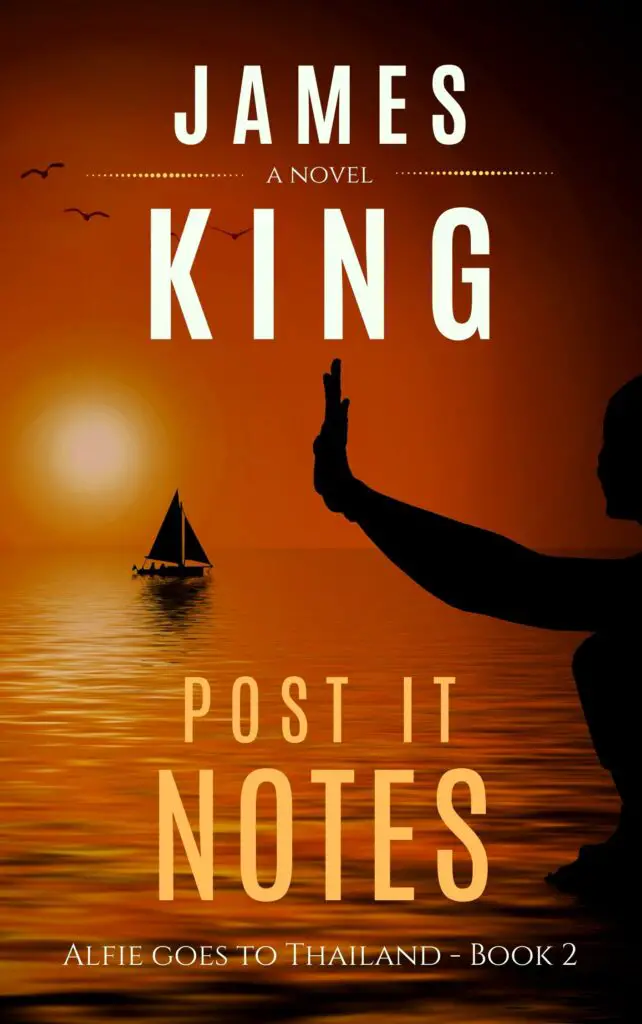 As if escape from a disastrous marriage wasn't enough, Alfie jumps straight back into the fire.
Driven to a place where no one knows him, the road to rebuilding his life is littered with potholes.
Post it notes stuck on the fridge door are constant reminders of a period Alfie wants to forget. But he can't resist a challenge, even if it has the potential to destroy him. Has Alfie taken on more than he can handle? Only time will tell.
'Post it Notes' is the first novel in the 'Alfie Goes to Thailand' trilogy. If you like thought-provoking drama, suspense, and damaged characters, you'll love this series about Alfie's fractured relationships with the women in his life, and his attempt to re-invent himself.
'I picked my way between the dilapidated tables and pots of boiling food that smelled like pork but could well have been a cocker spaniel. I must have looked out of place. Rats, as big as cats, and probably scared of farangs like me, scurried into any hole they could find. There was no sign of a health inspector, and the dog meat trade was booming. There were few windows, and the ones that still had glass hadn't been cleaned in a few lifetimes. So, there was a business opportunity gone missing, unless people concluded there was no market for window-cleaners. Copying the Thai smile, using inventive sign language, and a twenty-baht note, I got general directions back to Silom Road from a ragged old man, hunched up on a plastic crate. I think the note swung it. I'd just seen the dystopian side of Bangkok, another side of life, a place where men had no dreams, and a side I was glad I didn't live on.'
Book 3 – Skytube
A World in chaos. A fanciful dream. Split allegiance could lead to disaster.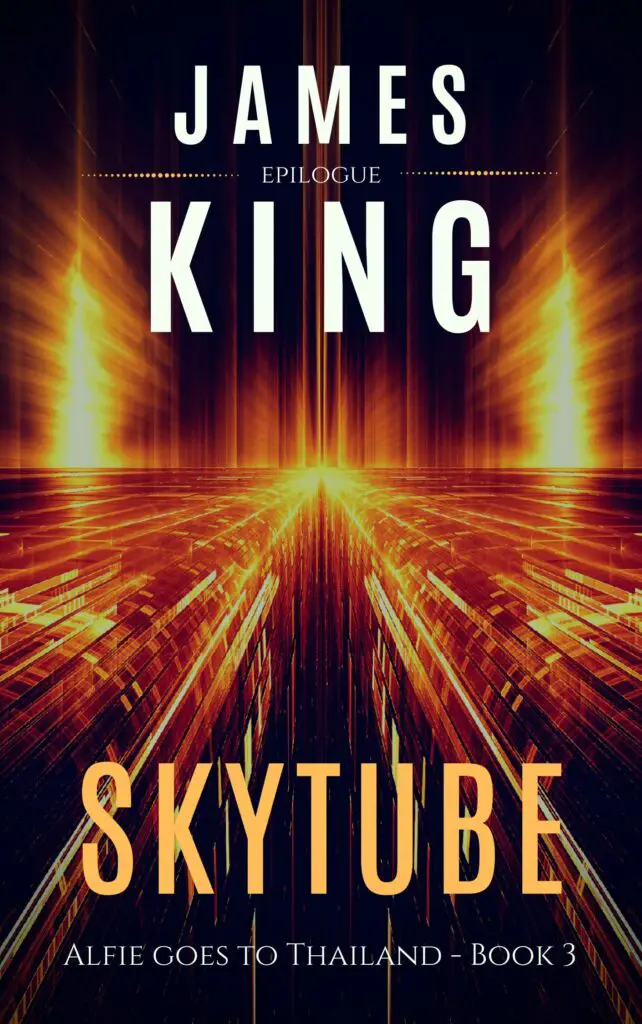 Back in Cape Town, Alfie must save his business. But the call of Thailand and the commitment he's made spell danger
When the World's banking system collapses, everyone is hurting. The headless chicken doesn't know which way to turn, while the wily fox sees the opportunity. Alfie's outrageous dream of a futuristic transportation system is the spark that ignites his fuse, and he acts. As he leads his team through desperate times, he streamlines the company by slashing overheads and retrenching staff. In three short months he turns it round.
But little does he know the challenge that faces him in Thailand is much greater. And he may not make it with his sanity intact.
'Alfie Mynn's sleep ended, but the dream didn't. For years, he envisioned a world where the major cities were linked by giant bridges. The bridges were tubes, sealed from the elements, which crossed oceans and land on stilts. And bullet trains travelled as fast as the fastest airliners, inside the tubes.  Fueled by solar power, stored in the outer casing of Skytube, it was the cleanest, safest and most efficient form of long-distance travel. Alfie had no idea if it was possible, any more than any inventor had, until it happened. But he hated everything that was possible to hate about air travel. So much so, that his dream became an obsession.'
Skytube is an Epilogue linking the novels Post-it Notes and House of Vipers.
Book 4 – House of Vipers
A daughter's loyalty. An evil plot. A mother's cruelty brings the family down.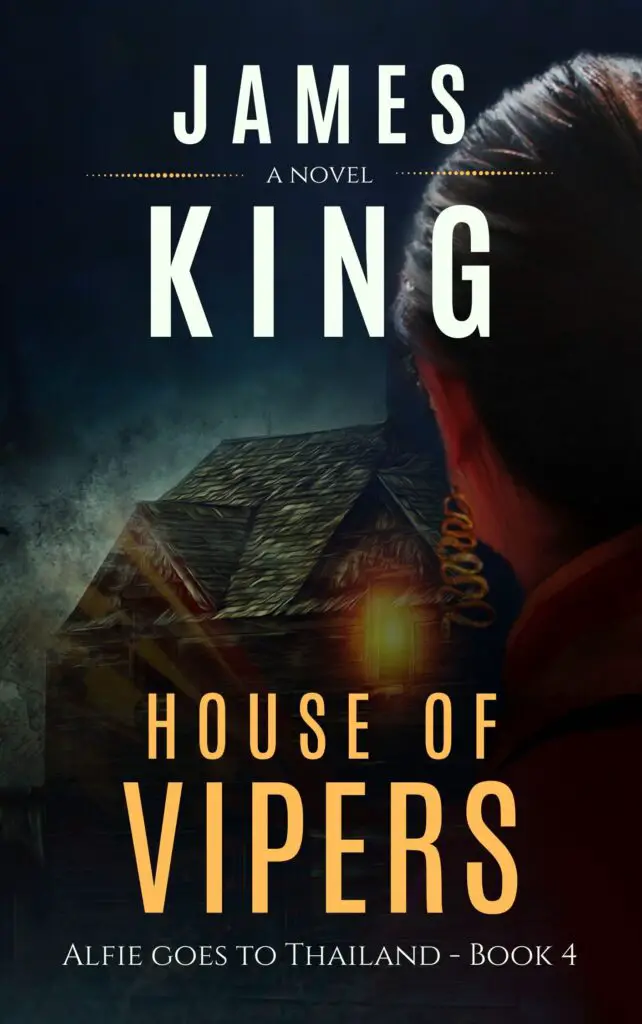 Alfie struggles to deal with the whirlwind of horrors which unfold chapter after chapter in the second novel of the series.
In the poor, hot and dusty north-east of Thailand Alfie Mynn, a South African businessman, has all but finished building a house for his partner Nin. But will her mother's evil plot bring the family down. Can Mother use her daughter's misplaced loyalty and the law, to ruin Nin and Alfie? The worst and the best elements of the human condition are reflected in the characters.
Can Alfie save himself or is it too late?
'It was dark inside the cupboard. The darkness you might associate with a corpse in a coffin. If there had been a chink, the light that got in would have been as sharp as a laser. But there was no chink, only pitch black, and the child didn't stop screaming until she let him out an hour later.'
Book 5 – Sticks and Stones
He's heard of abusive relationships. But he never expected this. It could be a narrow squeak.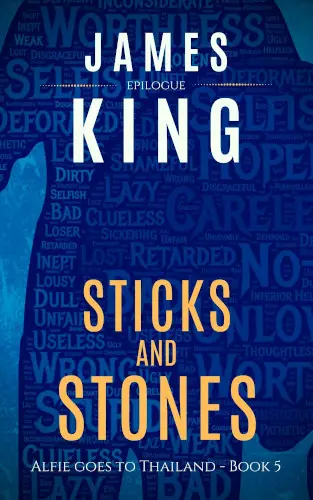 Alfie's mood is black, bordering on suicidal. He's never been treated with such disrespect. A less balanced person would have fled the country. Riddled with bitterness and memories of the empty wine bottles, visions of the post-it-notes on the fridge door, come rushing back.
Dazed and confused, he fears for his sanity. He must get away from Nin and away from himself.
So, he plans a journey of recovery by discovery, that will take him to new parts of Thailand.
Will he see things clearer when makes his escape? How long will it take? Will he recover?
'My mood is black, bordering on suicidal. Nin has no further use for me. Her money is safely tucked away in the bank, and I am history. Abuse in the form of physical violence is easy to recognise. Mental abuse through verbal attacks, unwarranted silence or forced moroseness is not. Am I bitter? You bet I am. My disastrous marriage and the resulting acrimonious divorce in Cape Town's divorce court, caused me to spend hours researching abuse in relationships. I was shocked to find how many men suffer abuse from their wives or partners, but I never imagined it could happen twice, and in such quick succession.'
Book 6 – A Million Roman Candles
Words cut like a sushi knife. And sticks and stones don't break his bones.  But can he survive the heat?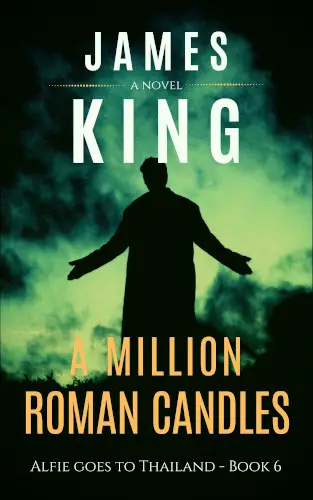 Like a butterfly, Alfie finds himself, fragile and delicate, flitting around, looking for a soft place to land and settle down. The constant nightmares have become real, and now the ghost of Nin is haunting him.
A deep sadness washes over him, and with a heart heavier than the leaden skies that came with the day, he takes the decision. He will not give up on Thailand. He will go on a journey of recovery. A journey that leaves him with no options.
He buckles up and drives away, with no plan, just an open heart and an empty mind, a man with no identity other than for official purposes.
Just when he thinks he has succeeded, and his journey is over, a shocking event and a quirk of fate take him to a place he could never have imagined existed.
Will he recover, or he will end up as another statistic of abuse?
'A woman appeared, standing immovable in a violent blood red storm. In the distance she faced me, unrecognisable until shrouded in mist she drifted towards me. She raised an arm to part a way through grasping hands, rising from the depths of their putrid graves, crying save me, save me.

I moved towards her, but the storm was so fierce it drove me backwards. When I raised my hand to shield my eyes from the driving rain, I saw an older woman swathed in a black shawl. There were many more grasping hands, writhing in desperation in the hell-like furnace. Their wailing spoke of untold suffering as they slipped deeper into the fire, screaming for salvation.'
Final Thoughts
These summaries of the 6 books in the series should give you a good idea of what to expect. You should read them in order to experience how the characters develop and the story unfolds. Ease your way into the series with the first book. Or get my free Starter Library here.