Music has the power to emotionally and physically move people. It transcends borders and cultures – and sometimes drives people to change. Music is a statement. It can be a short-term saviour to help release some of the burdens we carry on our shoulders. If you are nodding, you have probably been to one of the biggest music festivals in the world .
Each year thousands of music lovers gather at music festivals around the world to watch their idols perform on stage. But, festivals go beyond the music. There is so much more to it. The moment when people come together, arms in the air, singing along to lyrics they know. It's the crowd.
There is power in numbers. The biggest music festivals in the world by attendance are Danube Island Festival, Mawazine, Summerfest, Montreal International Jazz Festival, Pol'and'Rock Festival, Rock in Rio, Sziget Festival, Electric Daisy Carnival, Essence Music Festival and New Orleans Jazz and Heritage Festival.
What are the Biggest Music Festivals in the World?
When we say think big – think really big. Festivals have a significant impact on audiences around the globe. And, of course, the more famous the line-up, the more feet will flock to the pearly gates of music. As promoters create one-stop, get-to-experience-it-all strategies, festivals grow steadily from one year to the next.
Here's a closer look at the biggest music festivals in the world by attendance.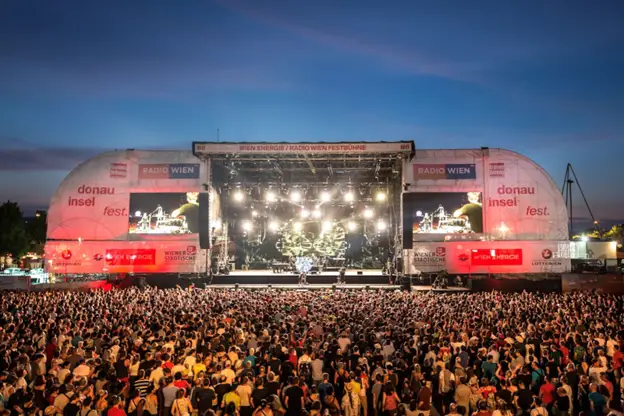 On the banks of the River Danube overlooking the city lights of Vienna, the Danube Island Festival is the biggest music festival in the world by far.
This three-day event is free to attend and attendees are invited to numerous stages throughout the weekend. Viewed as the largest open-air event in the world, it attracts over 3 million people each year. 
The Danube Island Festival is diverse, and among celebrity names, they try to include local bands and DJs. The live performances cover various genres like hip hop, rock, rap, metal, blues, reggae, electronic, and folk music.
The festival is held in late June every year and the record attendance is 3.1 million
In 2001 Mawazine was created to promote the up-and-coming talent of Rabat, Morocco. It was seven years later, when the festival changed management, that it started seeing a change in its numbers.
From world music to a more sought-after international line-up, Mawazine has become one of the biggest festivals in the world by attendance. And it is also the biggest festival in Africa.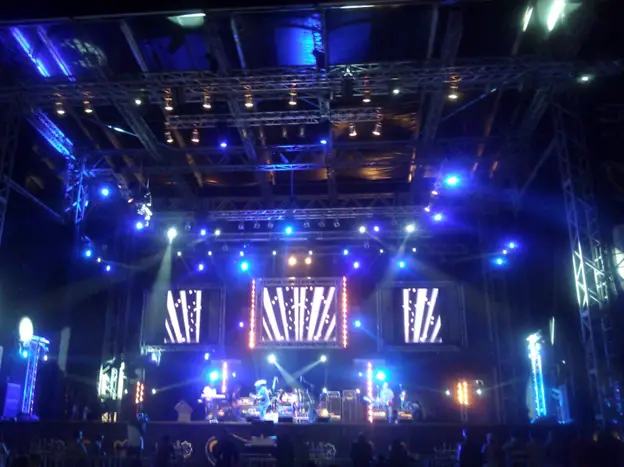 Mawazine translates to rhythms of the world and festival-goers are invited from far and wide free of charge. With 7 stages across the festival grounds, it is  a fitting tribute to African music.
The complete guide states the festival lasts about one week and is held in May/June each year. The record Attendance is 2.65 million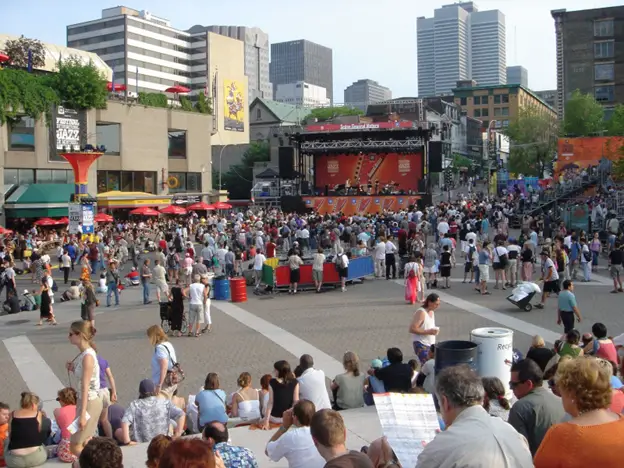 Considered the world's largest jazz festival and with a Guinness World Record accolade, this music festival runs for 10 days. So, it not only makes the biggest music festivals in the world list, but it gives festival-goers a diverse line-up.
This jazz get-together has been hosted in the island city of Montreal, Canada, since 1980. The grand scale of the Montreal International Jazz Festival is a testament to the impact of jazz.
The festival is held in July and has a record attendance of 2 million people.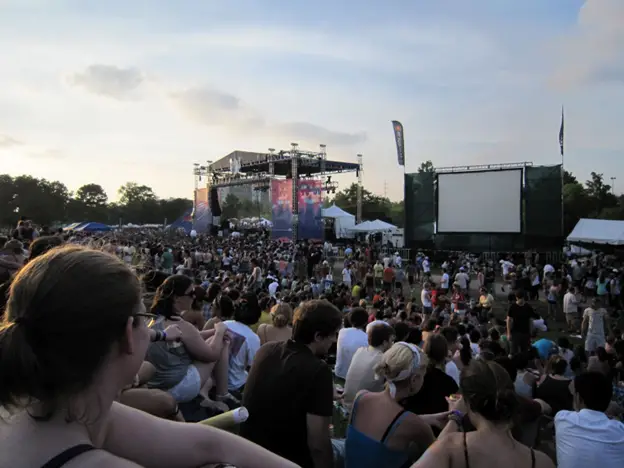 Summerfest is one of the largest music festivals in America. This landmark event takes place in the Henry Maier Festival Park in Milwaukee, Wisconsin, and entertains audiences for 11 days.
It celebrates all forms of music, and unlike other festivals, it includes lifestyle elements. Music legends, outdoor games, fireworks, comedy shows, and shopping – for $20 you have an action-packed day on your doorstep.
The event attracts more than 800k visitors over almost two weeks. And has featured stars like Paul McCartney, Stevie Wonder, Bruno Mars, and Lady Gaga.
Summerfest is held in June and July and has a record attendance of 830,000
What started as a tribute to the classic 1969 Woodstock Festival is now one of the largest open-air rock festivals in Europe.
Like the original Woodstock, Pol'and'Rock is also driven by a similar manifesto. The festival's official motto is 'Love, Friendship, Music'.
Held in Czaplinek in Poland and featuring folk, electronica, rock and classical music, this festival is free to attend – making it easy to add to your festival bucket list.
The Festival is held inJuly/August and has a record attendance of 750,000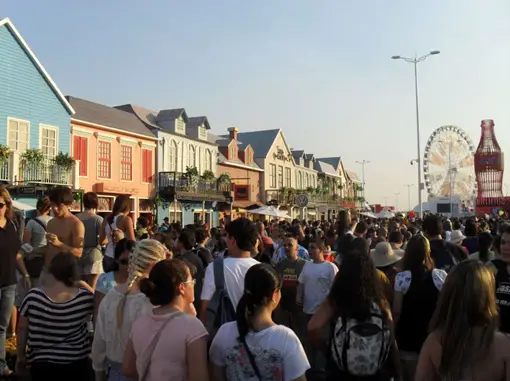 In the 5 days leading up to Lent, Rio de Janeiro, Brazil, hosts the legendary Rock in Rio multi-genre music festival. Founded by Brazilian marketer, Roberto Medino, in 1985, it is now celebrated as a monumental music festival in South America.
In fact, it became so popular that other editions have crossed continental borders. The Rock in Rio event also happens in Portugal, Spain, and Las Vegas in the United States.
As one of the biggest festivals in the world by attendance, the promoters make sure to please their crowds. Every two years, in September, Brazil turns into a fusion of rock, pop, funk, and electronica, with a sprinkle of fireworks on top.
Rock in Rio happens every 2 years in September, and has a record Attendance of 700,000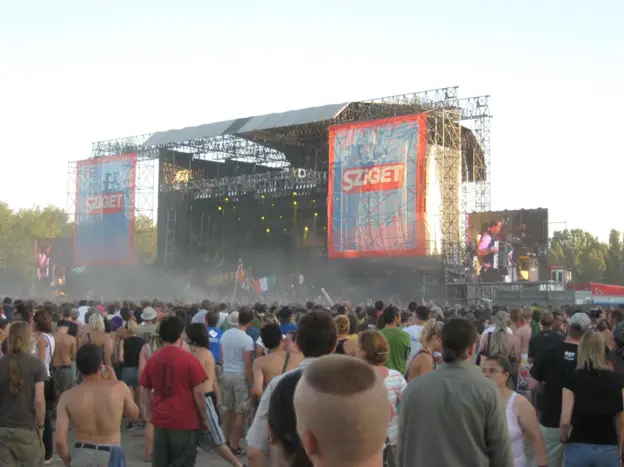 For seven days each year on a 266-acre island Budapest is the place to be. Positioned on the Obudai-Sziget island (The Island of Freedom) on the River Danube, it has transformed from a minor student event in 1993 to winning the Best Major European Festival – twice.
Alongside various musical performances, there are exhibitions, theatrical shows, and various films – offering a wide variety of entertainment to their 565 000 festival-goers.
The festival is held annually in August, and has a record Attendance of 565,000.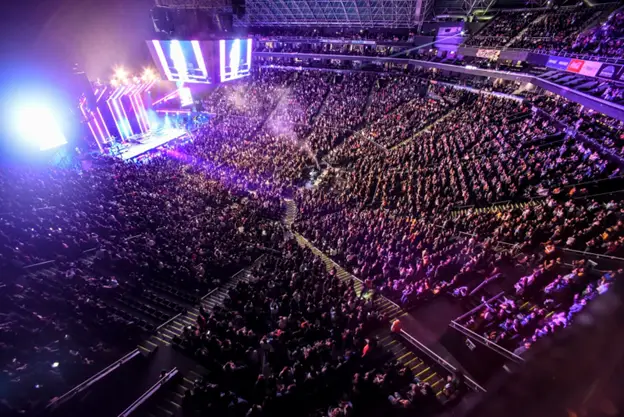 Celebrating the 25th anniversary of the magazine for African American women in 1994 – Essence, this music festival saw the light of day.
As a party with a purpose Essence Fest grew into a celebration with a global impact on African-American culture. From soul to jazz to blues, gospel, R&B, and hip-hop, some of the most celebrated artists perform at Essence Music Festival.
A party that was only meant to happen in New Orleans once, became a major annual hit, and a prominent African-American culture and music event in the USA.
Essence is held in July and has a record attendance of 470,000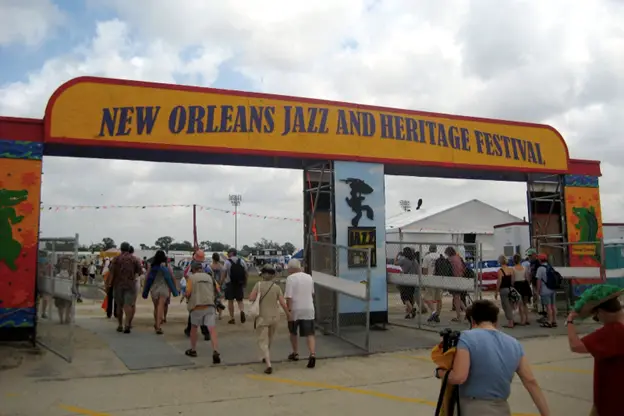 New Orleans is responsible for more than one of the biggest music festivals in the world by attendance. To celebrate New Orleans' and Louisiana's indigenous music and culture, this annual festival has spawned many stories for over 50 years.
Also known as Jazz Fest, the festival curates a programme of New Orleans' jazz elite alongside other well-known names in the business. Adding to the splendour, the line-up features parades and artisanal food. You can listen to jazz while feasting on Creole cooking, an oyster bar, and famous chefs' masterpieces, amongst other activities. 
Jazz Fest is held in April and May and has a record attendance of 450,000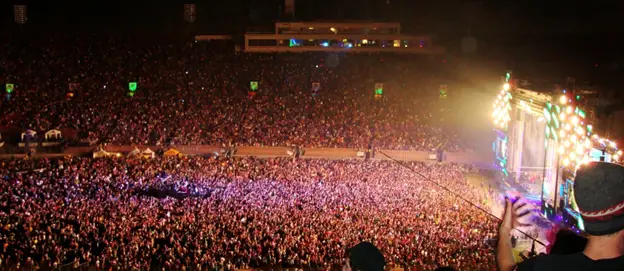 The EDC is an electronic dance music festival held at the Las Vegas Motor Speedway. It started at a small venue in California in 1999 and went on to become a global phenomenon. The EDC has since transformed into a mega-production.
With a focus on lighting design, pyrotechnics, and noteworthy stage designs, the festival showcases anything electronic and fast-paced. EDC builds 3D glow-in-the-dark superstructures, interactive art installations, and there are rides across the venue.
Most popular amongst electronic music lovers, there have been editions of this festival in Tokyo, Puerto Rico, São Paulo, Seoul, and Orlando.
EDC is held in  May/June and has a record attendance of 400,000


Final Thoughts
There are many reasons why music festivals are popular, and why some become the biggest in the world. The success of many of the festivals listed above is determined by the promoters.
Promoters with the ability to put together a holistic experience will see the numbers of visitors escalate.Festival-goers are there for the music, but to keep audiences coming back year after year, your programming recipe must be progressive and ever-growing.
So, if you look for the next big festival, consider the overall context of the event. Particularly he line-up, the backdrop and additional activities the programming offers.
Who knows, maybe we will catch you in the crowd.